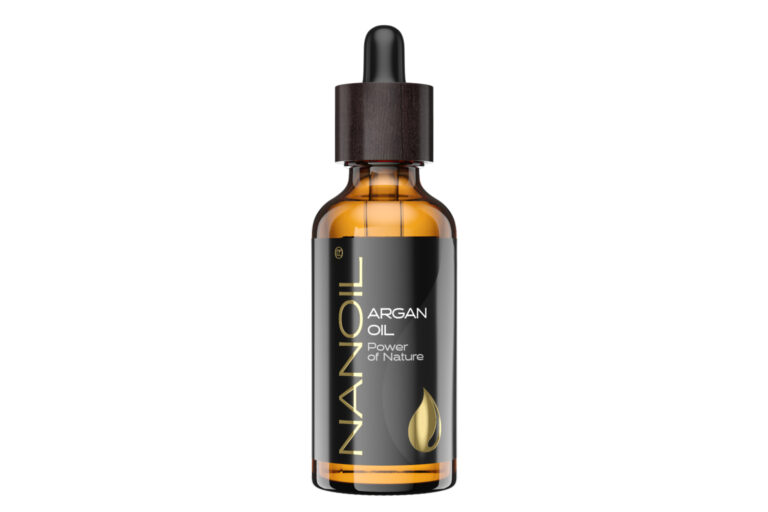 1. Before you use…
Nanoil Argan Oil is a natural, cold-pressed, unrefined oil. In a charming black vial you find nothing but nature. What's important, it isn't working only on hair but also treats nails, face skin and your whole body. If you want to feel the power of Argan nuts in your hair care, go to the producer's webpage and order your Nanoil Argan Oil!
2. Ingredients
The biggest asset of this product is its composition – undisturbed by potentially-irritating substances and synthetics. Nanoil Argan Oil is exclusively made up of cold-pressed, unrefined oil extracted from Argan nuts (INCI: Argania Spinosa Kernel Oil). The product bears the Ecocert mark proving its fine quality. This organic oil has universal ingredients and works very well for skin and hair care thanks to what's hidden inside, namely omega fatty acids, phytosterols, minerals, vitamin E and other antioxidants.
3. Effects and properties
Nanoil Argan Oil is second to none in daily beauty routine. It's a natural emollient, that is a moisturising substance which keeps water from escaping. There's more to the product, though! Thanks to antioxidants, it fights free radicals and delays ageing process but it's not only a good choice for ageing hair care; use it to cure damaged, colour-treated, splitting hair – the oil enhances repair, strengthens and makes hair look better and healthier. It's also effective before and after styling routine as it smoothes hair, gives shine, softens and protects against heat and sunlight. Rubbed in scalp, it reinforces hair roots, improves moisture level and ensures faster growth.
Note! Nanoil Argan Oil is a natural product and you can freely apply it to all body parts, face, nails and even eyelashes.
4. Application
There isn't one must-follow way to use Nanoil Argan Oil. It's a product you can use in a variety of ways e.g. apply it to dry hair lengths or wet strands, do hot oil hair treatment, keep it for an hour or all night. Feel free to treat your fatigued hair ends or scalp too. If you use a little of the oil, there's no need for rinsing it. Still, you should try intense treatment, that is apply more Nanoil as a rich hair mask.
5. Consistency, efficiency and scent
It is a weightless oil which absorbs instantly, not weighing down hair or skin. It's oily yet not too greasy. As every natural argan oil, Nanoil also has a delicate golden colour and subtle nut aroma. It holds out very long; you'll need several months to use up the 50ml bottle.
What you like Nanoil Argan Oil for?
it's cold-pressed, unrefined and 100% organic
it has Ecocert label
it can be used on hair, skin and nails
it doesn't only moisturize but also repairs
it protects against the sunlight and heat
it's safe as it contains nothing but pure argan oil
it holds out long because you just need a few drops for intense hair treatment
it's easy to use thanks to lightweight consistency
it can be used in various ways
it nourishes, strengthens and has anti-ageing effect
Why you do not like Nanoil Argan Oil?
it is available only online
some of you prefer oils having more intense scent
Why don't you learn more about pure argan oil by Nanoil?