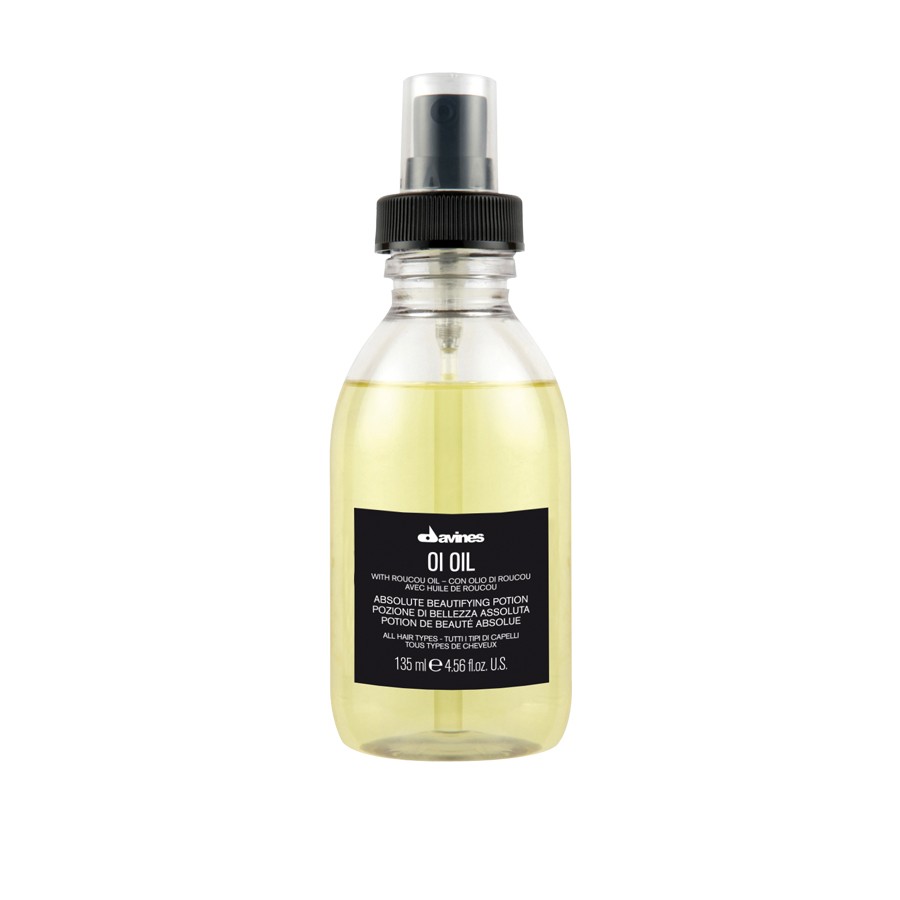 1. Before you use…
Davines Ol Oil is intended for people with dull hair with split ends. The main task of the product is to restore shine to the strands, nourish them, smooth and regenerate damaged ends. One bottle contains 135 ml of the cosmetic. The atomiser is not very comfortable to use. Davines Ol Oil can be purchased online.
2. Ingredients.
Davines Ol Oil comprises silicone oils and roucou oil. The first ones creates a coating on the surface of the strands that protects from high temperatures, pollution, impurities and other harmful substances. Roucou oil provides regenerating and anti free radical properties. It enhances natural hair colour, provides resilience and prevents premature ageing.
The composition also consists of silicones, UV filters and fragrances.
3. Effects and properties
Davines Ol Oil takes care of damaged hair. It ensures shine and smoothness. Thanks to it, strands are soft to the touch. The product prevents tangling and facilitates combing and styling. It also does not allow frizz or static. Thanks to the content of antioxidants, Davines Ol Oil protects hair and scalp from free radicals, harmful sun radiation, impurities and other environmental pollution. What is interesting, the packaging of the product can be re-processed.
4. Application
The use of Davines Ol Oil can cause us a little bit of trouble. Why? The applicator is very small and you must tilt the bottle to get the cosmetic out of it. And how to apply it to your wisps? Preferably, the product is to be used before blow-drying and styling after shampooing. However, you might apply it to dry hair as well. This way, your hair, and especially the ends, will be protected against high temperature. Apply a few drops of the product each evening, before going to sleep.
5. Consistency, efficiency and scent.
Davines Ol Oil has a lightweight formula that does not weigh hair down and is quickly absorbed. It is a very efficient cosmetic – enough for a six-month treatment. How to describe its scent? It is rather unique, you can sense vanilla and sweet aroma of annatto flowers.
What you like Davines Ol Oil for?
it regenerates and nourishes hair ends
smooths and provides shine
contains silicones, roucou oil and UV filter
it has a lightweight formula that does not overburden strands
the product is efficient
it has a nice scent
Why you do not like Davine Ol Oil?
application can be problematic
small, inconvenient applicator