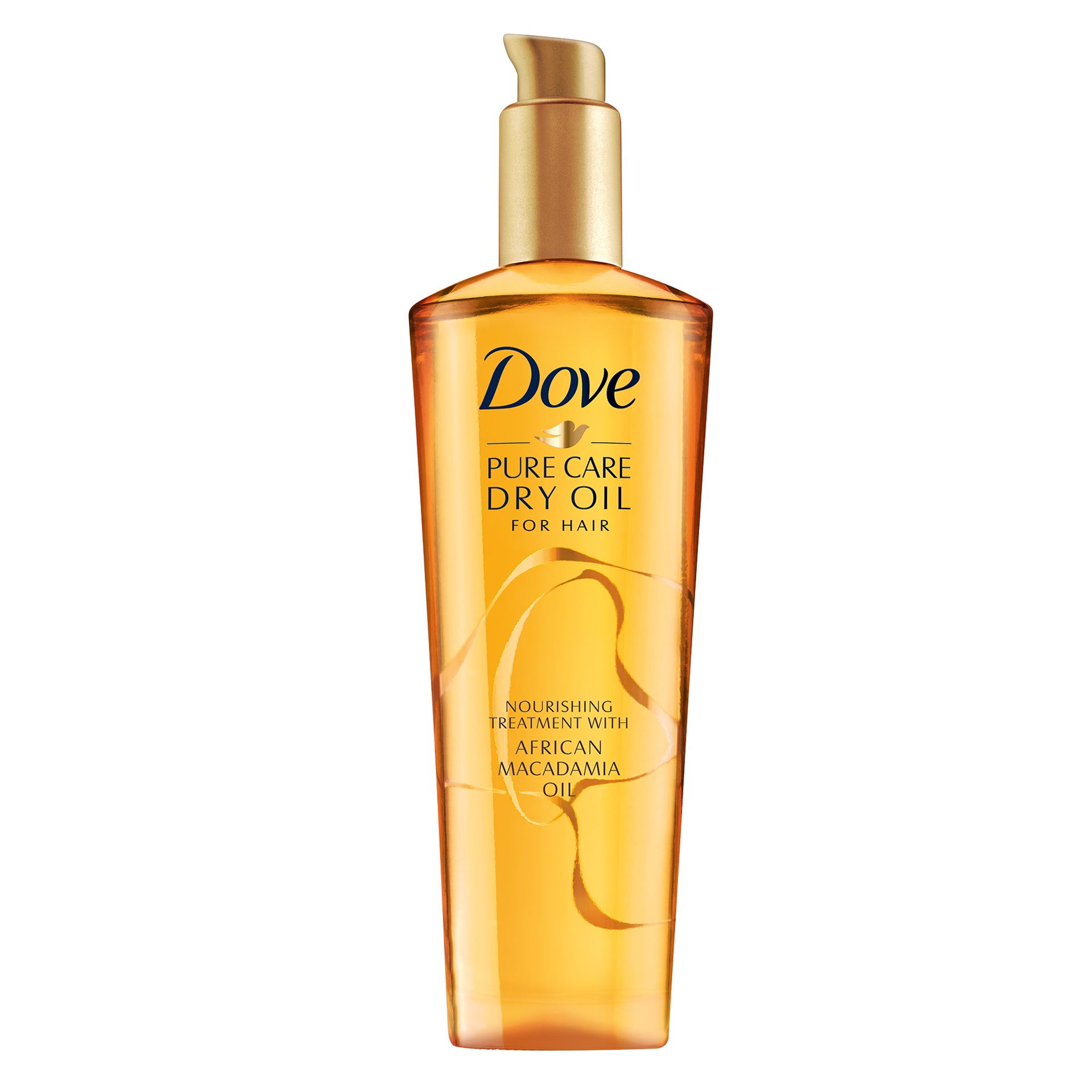 1. Before you use…
Dove Pure Care Dry Oil is recommended for all hair types. The main properties of the cosmetic are: nourishing, protection and providing softness. There is 100 ml in one bottle and it is equipped with a very small pump. The product is available in every drugstore.
2. Ingredients.
Coconut oil, sweet almond oil, sunflower oil, palm oil and macadamia oil are the most important components of the product. They take care of all hair and scalp types. They can really work wonders. However, people with sensitive scalp and extremely damaged hair should not use Dove Pure Care Dry Oil. AT the beginning of the list of components you can find paraffin wax that can disturb the work of sebaceous glands and cause irritations.
The product also contains silicones, alcohols and perfume.
3. Effects and properties.
Thanks to Dove Pure Care Dry Oil your hair is nourished, soft and smooth. Despite the presence of paraffin, it has a lightweight formula – does not leave any greasy film on the surface of the stands. The cosmetic protects hair and scalp from harmful external factors as well as mechanical and chemical damages. If you use the product regularly, you can expect spectacular effects.
4. Application.
Forst of all, apply three or four doses of the cosmetic to the palms of your hands and rub to heat it up. Next, distribute it evenly onto clean hair. Start from the mid-length downwards and focus on the ends. Then, blow-dry and style the way you prefer. If the cosmetic gets into your eye, immediately rinse it with cool water. You can also use Dove Pure Care Dry Oil in a different way. Apply it before shampooing to nourish your strands. After about 30 minutes rinse and wash your wisps. In order to moisturise and provide resilience, apply it to clean strands. Use the product on daily basis or as an addition to masks and conditioners to strengthen your hair.
5. Consistency, efficiency and scent.
The scent of Dove Pure Care Dry Oil is very intense and can irritate some users. The consistency is lightweight and quickly absorbed. It does not weigh hair down or stick it together. The product is very efficient – one packaging is enough for almost a year of use.
What you like Dove Pure Care Dry Oil for?
nourishes and protects damaged hair
provides gloss and softness
contains coconut oil, sweet almond oil, sunflower oil, palm oil and macadamia oil
variety of uses of the cosmetic
very efficient product
lightweight consistency, quickly absorbed
Why you do not like Dove Pure Care Dry Oil?
paraffin can irritate
irritating scent
only regular use can provide desired effects