Is your hair damaged so you're afraid that the only solution that you're left with is a radical haircut? Wait! Use the power of keratin in your home hair repair plan and use  Nanoil Keratin Hair Mask to bring back the natural beauty to your strands.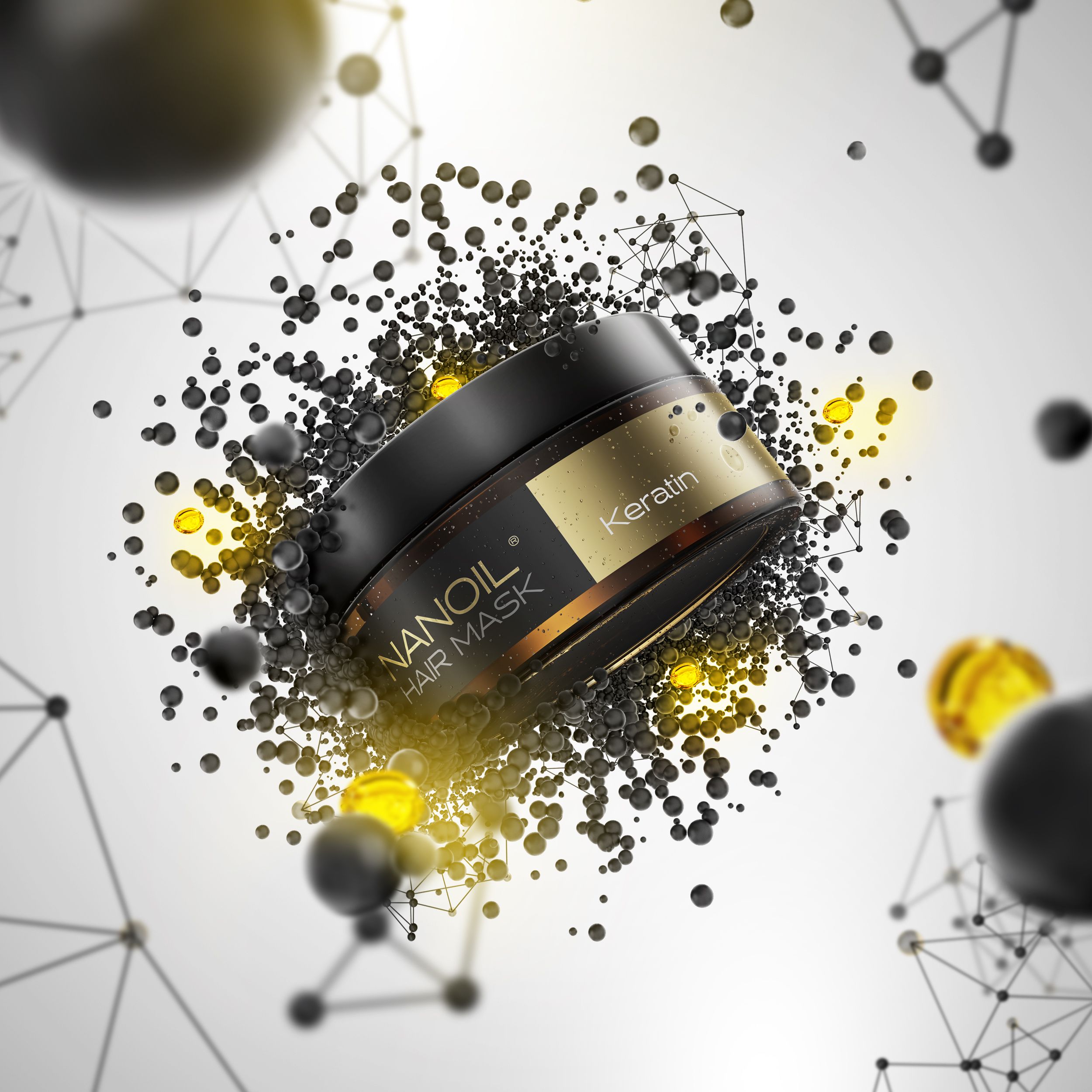 Your hair is fabulous, long and full of shine. You don't have to take any special care of it, actually it all sums up to occasional dyeing and morning use of a blow-dryer. The strands don't seem to lack anything. There are days when you manage to arrange them in a cool-looking hairdo. Yet, you wake up one day and you notice split ends. The hair seems to be brittle too. You reach for a comb and start brushing hoping that this is only the "hairdo" that your pillow has done. You keep brushing the strands and notice with horror that the comb has picked up a harrowingly big amount of hairs that have fallen out. And now it hits you that there has been something wrong happened to your hair, that it's damaged and in a miserable condition. How it happened?! What now?
What causes brittle hair and split ends?
There are many factors that have a negative impact on the hair. They can be external factors (e.g. sun, urban pollution, cold weather) or internal factors (e.g. hormonal disorders, diseases, a nutrient-poor diet). However, in most cases this is us who unintentionally make our hair weak – in most cases this is some spontaneous decision connected with changing a hair color, bleaching or frequent use of heat styling tools. Factors that we can control but often cause damage to our hair include:
using too hot air stream to blow dry the hair.
exposing the hair to dyes and heat styling.
no sun protection (aka UV protection).
no heat protection.
tugging the hair and using force to detangle stubborn knots.
sleeping with loose hair.
using too many hair accessories.
wearing tight updos (braids, ponytails) which makes the hair follicles weaker.
Rescue for hair: keratin hair mask by Nanoil
Luckily, there's always a way out. Even the most damaged strands can be fully repaired, but you need to find an ally first – a product such as keratin hair mask by Nanoil. This is the only such hair mask for damaged hair whose constituents are able to repair the entire length of the hair shafts – quickly, effectively and without spending much time on the treatment. How is it possible?
Nanoil Keratin Hair Mask – ingredients
The ingredients used to formulate a beauty product determine the final effects you are able to achieve. In the case of Nanoil hair mask the key ingredient is hydrolyzed keratin that is able to reconstruct and repair damaged strands. This is a protein that is a natural constituent of our hair, and therefore it's able to reconstruct and fix the hair "brick by brick". Together with panthenol (provitamin B5) it improves the moisture levels in the hair, revives it and makes hair look simply beautiful. In this way Nanoil Keratin Hair Mask proves that sometimes you need just two ingredients to take care of your hair better (and cheaper!) than in a professional hair salon.
Nanoil Keratin Hair Mask – texture
Another plus of this hair mask is the feel. This is an exceptionally lightweight hair mask that is extremely pleasant to use. And there are a few reasons for that: you don't have to use much to cover the entire hair length, when on the hair it doesn't run down, is easy to rinse leaving the hair fresh, lifted at roots and smooth. Women from all over the world fell in love with Nanoil Keratin Hair Mask both for not weighing hair down and being an exceptionally efficacious cosmetic.
Nanoil Keratin Hair Mask – effects
The cost-effective hair mask is easy to recognize by examining the effects it's able to produce. And Nanoil hair mask with keratin is truly effective! The difference can be noticed after just one use, and with every another application it's getting even better!
Repairs and fortifies the hair from inside.
Combats excessive hair loss.
Prevents split ends.
Smooths out and improves hair resilience.
Brings back the natural shine to the hair.
Protects against damage.
And the best bit is that you don't have to sacrifice much to achieve the very results. Just apply Nanoil Keratin Hair Mask on a regular basis – at least once a week, keep the mask on the hair for 15 minutes. This appears to be almost nothing when compared either to the time that has to be spent at a hairdresser's or more demanding hair treatments such as scalp ampules or hair oil treatment. Using Nanoil Keratin Hair Mask is easier than you think – apply it to the washed and damp hair, wait 15-30 minutes and rinse. So little to win so much!